Research School Network: Linear Literacy: Assessing Academic Expression Linear Literacy: Assessing Academic Expression
—
---
Linear Literacy: Assessing Academic Expression
Linear Literacy: Assessing Academic Expression
by Meols Cop Research School
on the
The importance of literacy is evident, not just for success in school, but also for wider life. However, despite the ubiquitous advantages of high levels of literacy, there are on-going debates in how to define it and therefore, how to cultivate it effectively within schools. From the early years, children acquire language receptively by listening and later, reading to develop their recognition of words and their comprehension of meaning. In addition, literacy involves the expression of language, considering performance and articulation through speaking and writing. Receptive and expressive language combine into ​'literacy', the ability to understand and communicate with others.


Critically, effective communication skills are required in almost every aspect of life. From academic achievement and employment opportunities, to emotional well-being and quality of relationships, it is no surprise that literacy is the greatest predictor of both academic attainment (Banat, 2019) and well-being (Law, Charlton, & Asmussen, 2017). Just as early intervention is crucial for supporting comprehension and vocabulary development, so too is it a priority for breaking the perpetual disadvantage cycle; in other words, literacy is not only essential for social mobility and socioeconomic progression, but also to create meaningful relationships and emotional stability. The ​'30 million word study' (Hart & Risley, 1995) illustrates the variability in language exposure between low and high socioeconomic backgrounds, replicated by LENA (2015) to reveal a 4 million word gap by age 4. Some might argue that this is beyond schools' control, but in reality this accentuates the crucial role of developing literacy in schools.


If schools are to evidence impact of their literacy teaching and wider strategies, then it is of course necessary to monitor the progress of each child's literacy within their school. Early screening of reading ages (and now writing ages, thanks to the NoMoreMarking study) is a useful starting point, but how can go even further with the assessment and development of literacy?


At Meols Cop High School, my research project is to investigate the development of ​'academic expression', which is deconstructed into (a) discourse markers, (b) disciplinary vocabulary, and © complex sentence stems. For the rest of this paper, I will present the rationale behind the study as well as some potential strategies to implement and monitor.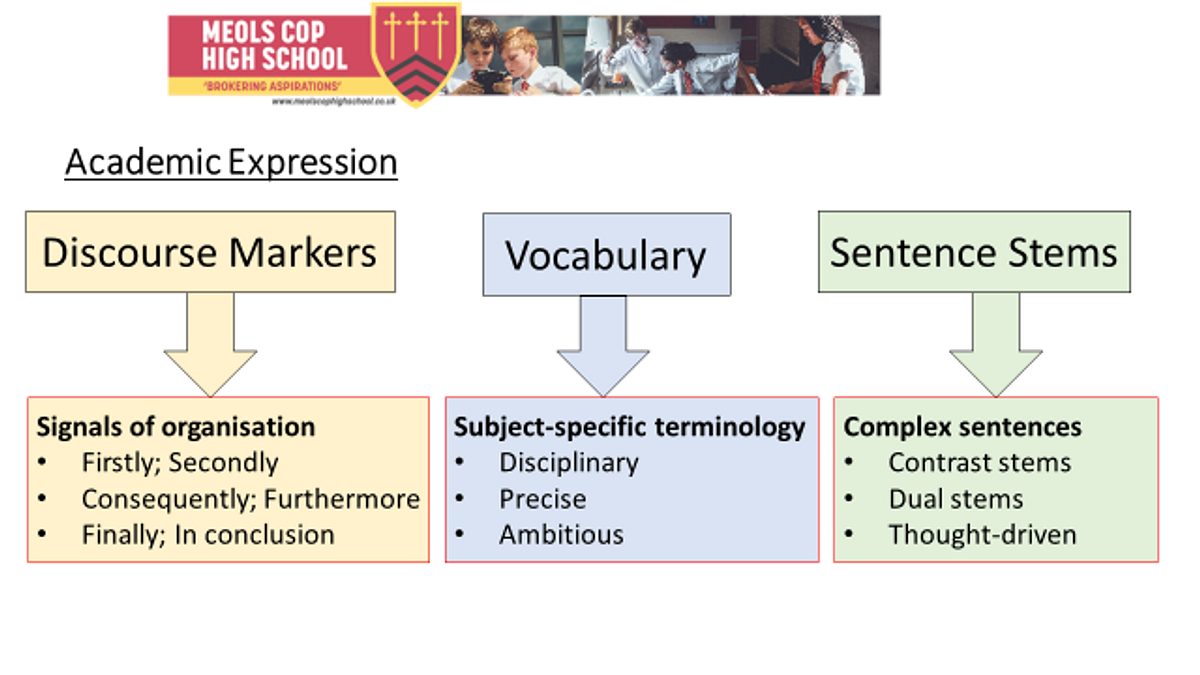 Discourse Markers

A ​'discourse marker' is a word or phrase that links and connects ideas together. For example, discourse markers can be used to structure ideas coherently (eg. First of all; In addition; In conclusion) as well as the comparison of contrasting ideas (eg. Similarly; However; Alternatively). Consequently, they are vital for clarity, fluency and logic in spoken and written communication.


Furthermore, not only can discourse markers be modelled effectively by the teacher, but they can also be explicitly assessed and monitored in every subject. For example, in English, teachers can establish the expectation that discourse markers are used frequently in expressive language (spoken/​writing), especially to compare a variation of ideas or texts. However, in Science, it might be that teachers use them to sequence a biological process.


To assess this, I started with the speaking and listening elements of literacy, by planning specific discourse markers to use in my lesson discussions. I established high expectations for students to use discourse markers in their spoken language, with feedback and prompts issued to create a culture of clarity for the students. This can later develop into a writing success criteria, with support and prompts initially provided but removed at the earliest opportunity.
Disciplinary Vocabulary

Disciplinary vocabulary are the essential words that define, enrich and connect knowledge within a subject. Not only do these words offer precision and depth to expression, but they also display an element of sophistication and deep knowledge of a subject. These words should be planned for at a curriculum level, but more importantly, should be explicitly taught and embedded deeply into lessons.


Explicit vocabulary teaching provides students with an opportunity to explore ambitious words that link to the subject's content and expertise. Embedding these words requires teachers to carefully select the essential words that will foster success for their subject, highlighting the importance of teacher expertise. In addition, incidental vocabulary learning is another consideration, in which there are frequent discussions about new words and meanings when they are encountered in the classroom. When reading high quality texts, these conversational turns unlock important shades of meaning for pupils that can fend off misconceptions and lead to greater understanding when reading (Quigley, 2021).


A repeated measures design is useful to evaluate the impact of vocabulary instruction in the classroom. Before teaching commences, students can be issued with a short assessment that measures their knowledge of disciplinary word definitions, the identification of correct examples, and awareness of vocabulary synonyms. The post-test can be issued at the end, once all of the words have been explicitly taught and embedded. This allows teachers to monitor the quality and quantity of vocabulary in their classroom, as well as the opportunity to make changes to their vocabulary instruction.


Complex Sentence Stems

​'Sentence stems' act as the grammatical glue for meaning, information, and knowledge in expressive language. Simple sentences consists of an independent, completed thought, while compound sentences connect two thoughts together using punctuation or a conjunction. However, it is when students start to use complex sentence stems to illustrate the relationship between two ideas that intellectual rigor and depth emerges.


The purpose of embedding complex sentence stems is two-fold. On one hand, they provide a sense of sophistication and confidence in expressive language. On the other hand, they routinely prompt students to consider the relationship between two ideas. Complex sentence stems such as ​"Even though… / …continues to…" allows students to comment on contradictions or juxtapositions between ideas, whereas ​"Just as…/ so too…" encourages students to express multiple or alternative interpretations in response to a question.


Even though I would always recommend to start with modelling through speech, complex sentence stems are particularly difficult to use in spontaneous talk. As a result, they require a level of preparation and planning to execute well, and consequently are easier to use in writing than speech. However, making notes before writing to establish contradictory or alternative ideas is useful for discussion and written preparation. Teachers can assess their students' proficiency complex stems by using strategies like ​'100 word challenge' and ​'Silent Solo' (Lemov, 2014).


Although literacy strategies should implemented and monitored rigorously to ensure maximum progress, many initiatives fail due to poor planning, failure to adapt, and the absence of impact evaluation beyond professional judgment. Before implementing any of these strategies to develop academic expression, I would recommend a planned implementation cycle, based on the ​'School's guide to implementation' (EEF, 2019). Consider which area you want to focus on, and the core ingredients of your chosen strategy. Only then are you able to implement a strategy with sustainability and measurement. At the end of your initiative, do not be disheartened if the results are not as you expected. Instead, ask yourself the questions: what are my next steps? And what would I have continued to do without this information? These reflections allow you to continue the improvement of your strategy, and raise your awareness to the caveats of professional judgement and bias.


To conclude, here are some further examples of academic expression in a range of subjects: