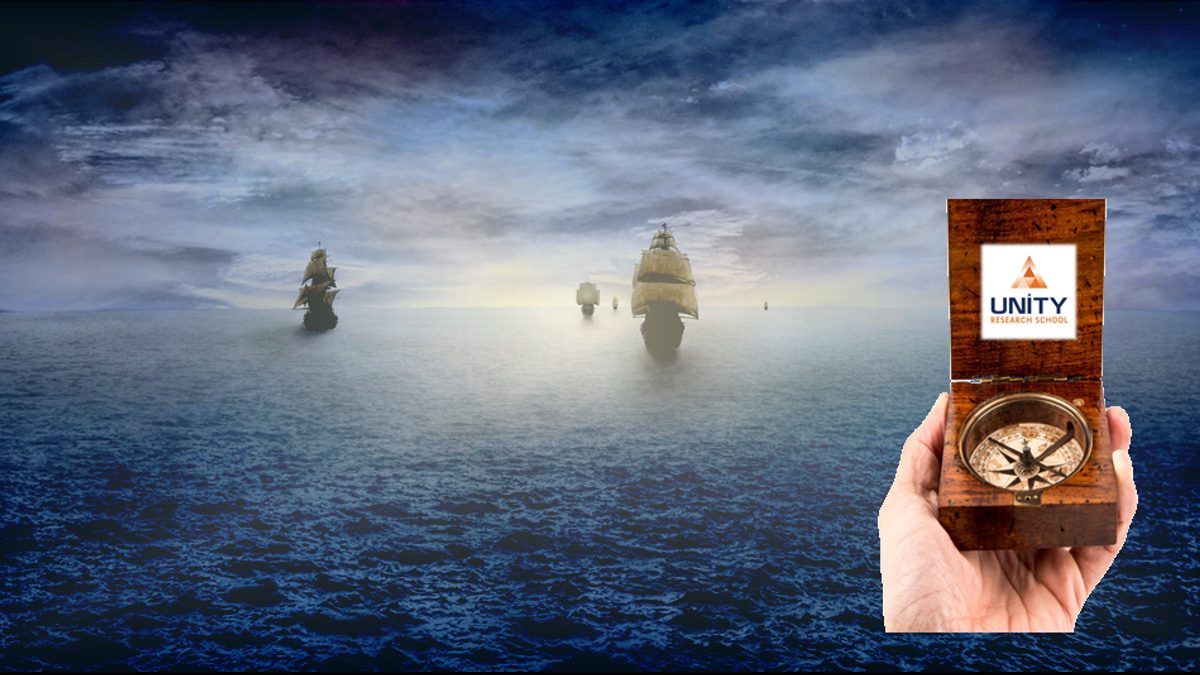 Research School Network: Putting evidence to work: 5 EEF resources we've been using amid challenging times Existing evidence provides helpful steers through uncertainty and change
—
---
Putting evidence to work: 5 EEF resources we've been using amid challenging times
Existing evidence provides helpful steers through uncertainty and change
by Unity Research School
on the
It has been a September like never before, following a previous five months that we could not have imagined.
New habits, routines and approaches have had to be evolved at pace, amid uncertainty and change. These new challenges have seen existing evidence able to provide helpful steers and we have been utilising key resources from the ever growing library at the Education Endowment Foundation (EEF).
Here's a selection of examples of how we have been bringing evidence alongside schools in the current context:

Used with: primary headteachers and senior leaders in South Gloucestershire

This week we launched an exciting new, bespoke partnership project with a group of primary school leaders in South Gloucestershire. Harnessing the benefits of remote professional development, we were able to ​'beam in' delegates from across the county and expertise from further afield to the launch day of ​'Mitigation to success'.
Marc Rowland, Unity's Disadvantaged and Vulnerable Pupils Adviser led the morning session rooted in the key principles of a tiered approach to school planning with exemplification of effective diagnosis of need, the importance of implementation and critical nature of how we must seek, at this time more than ever before, to strengthen pupils' relationships to learning.
During the course of the morning inputs from Andy Samways, Director of Unity Research School outlined the place of metacognition within the heart of effective teaching and classroom practice and special guest Margaret Mulholland, ASCL SEND & Inclusion specialist provided an invaluable and characteristically challenging input on the importance of inclusive pedagogies for vulnerable learners.
We enjoyed the opportunity to engage with such passionate leaders, are excited about future sessions and were delighted with feedback like this: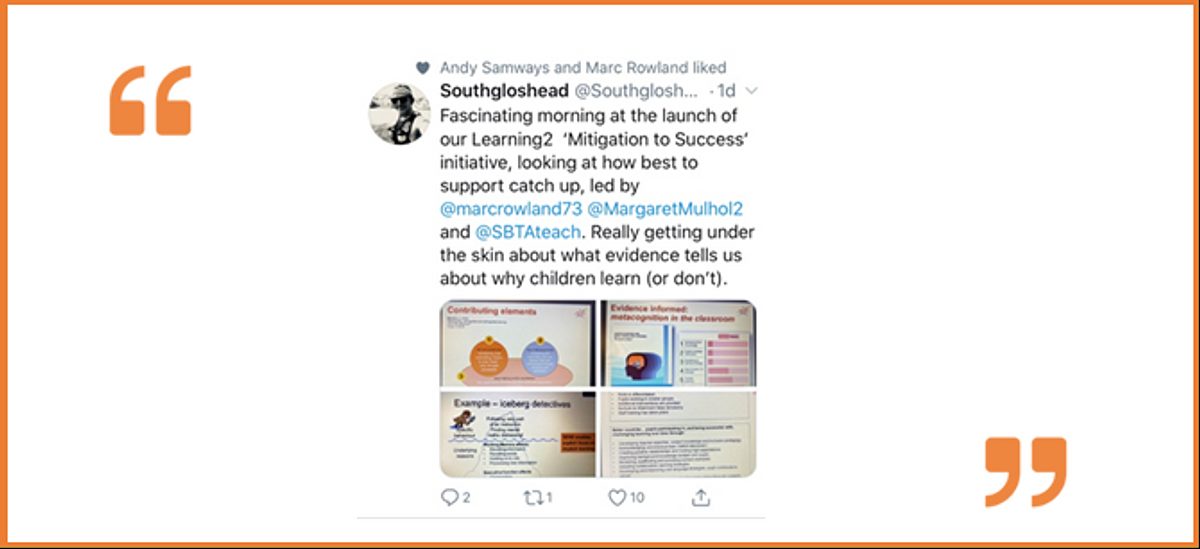 ---
Used with: Unity Schools Partnership school leaders

Published in September 2019, Improving Social and Emotional Learning in Primary Schools is a guidance report we have utilised increasingly as the challenges of the Covid-19 pandemic have evolved.
At a time when schools are facing the challenges of educating through the Covid-19 pandemic as well as reviewing their core vision and curriculum offer, implementing statutory Relationships and Health education, this guidance offers six practical and evidence-based recommendations to support the essential aspects of children's social and emotional development.
It provides a starting point for schools to review their current approaches, and suggests practical ideas they can implement. Importantly, it argues that such approaches can be woven into everyday class teaching without creating burdensome new programmes of work.
Led by two Unity Schools Partnership primary headteachers case studies exemplifying effective practice are being shaped. The framework they developed draws on recommendations from this guidance report as well as Putting Evidence to Work: a school's guide to implementation. Short, precise detail is captured for sharing with other schools using a selection of headings to focus the narrative:
What problem had been identified?
What outcomes were being sought?
What are the key ingredients that had to be in place?
How has it been made to work in this context?
Which of the Core Competencies are addressed?
What impact has been seen thus far?
This is ongoing work and if you are interested in contributing to this collation of case studies within the context of what we are experiencing please contact Dave Perkins (dperkins@​laureateacademy.​co.​uk) who will be only too pleased to share our template and a sense of the activity to date.
---
Used with:Cambridge Meridian Academies Trust (CMAT)secondary school leaders

This has to be our most frequently used resource in our work with schools. As outlined in the introduction on page 3:
"Implementation is what schools do to improve: to change and be more effective. And yet implementation is a domain of school practice that rarely receives sufficient attention. In our collective haste to do better for pupils, new ideas are often introduced with too little consideration for how the changes will be managed and what steps are needed to maximise the chances of success. Too often the who, why, where, when, and how are overlooked meaning implementation risks becoming an ​'add on' task expected to be tackled on top of the day-to-day work. As a result, projects initiated with the best of intentions can fade away as schools struggle to manage these competing priorities.
One of the characteristics that distinguishes effective and less-effective schools, in addition to what they implement, is how they put those new approaches into practice. Often, individuals and schools that implement well tend do so by instinct, or what might be called common sense. Unfortunately, good implementation occupies a rarefied space of ​'uncommon common sense', with too few explicit discussions of the characteristics and qualities that make it effective."
… and right now, at time when a leader in another trust described the daily challenges of leading in a large coastal secondary school as like trying to ​'nail jelly to a wall', effective implementation has never been more important. So as part of the CMAT focus day we considered how their current lived experiences in schools resonated with a selection of provocations drawn from the guidance report key recommendations such as:
successful implementation …. the aggregation of lots of small things done very well
make fewer, but more strategic choices, and pursue these diligently; reviewing and stopping some existing practices may be required before delivering new ones
create a leadership environment and school climate that is conducive to good implementation
Discussion generated was rich, bringing evidence alongside experience and highlighting how this guidance report and associated resources are something to hold tight but loose as next steps through a challenging term are explored, planned and delivered.
---
Used with:Churchill Special Free School
Colleagues from Unity Research School have been fortunate to be involved in the EEF working group shaping resources to accompany this recently published guidance report.
Working with EEF's Learning Behaviours specialist, Kirsten Mould, has provided the opportunity to contribute to exemplification of effective evidence informed practice. Blogs such as Kirsten's ​'Five evidence-based strategies to support high-quality teaching for pupils with SEND' are being supplemented by case studies such as this one from one of Unity's special schools. Headteacher George Ellis and her team enjoyed the opportunity (and challenge!) of encapsulating key values, principles and practices within their case study contribution ​'Seeking input from pupils, parents and specialist professionals – how do schools make it work?'.
---
Used with: Suffolk and Norfolk SCITTsecondary trainees within core ITT training
In partnership with Norwich Research School we have been providing extended input to the core training provided to a vibrant cohort of trainee teachers embarking on their training with Suffolk and Norfolk SCITT. We're really enjoying the opportunity to engage with colleagues at such an early stage in their careers and outline the role evidence can play in their professional development.
In our second session, delivered via Zoom, we introduced and explored The Teaching and Learning Toolkit. Designed to support teachers and school leaders who are making decisions about how to improve learning outcomes, particularly for disadvantaged children and young people bringing it to trainee teachers' attention puts a wealth of evidence at their fingertips at a particularly formative stage of their career development.
We outlined how:
it is based on real life data about what has happened when particular approaches have been used in schools before
the Toolkit does not make definitive claims as to what will work to improve outcomes in a given school – rather it provides high quality information about what is likely to be beneficial based on existing evidence – ​

'

best bets' for what might work in your own context.
because the Toolkits do not provide definitive answers, it should not be used in isolation – professional judgement and expertise (theirs and/​or their mentor's) is also needed to move from the information in the Toolkit to an evidence-informed decision about what will work best in your school or classroom
After live modelling of how to navigate and dive in to the detail behind the Toolkit homepage we drew attention to three top tips for getting the most out of the Toolkit:
Look beyond the headlines: Every approach in the Toolkit has a dedicated page which describes in more detail what it is, what it costs and what impact you can expect. This extra detail can really matter. For example, the headline page shows that the average impact for Teaching Assistants is small, on average. However, the Teaching Assistants page reveals that using TAs to provide intensive, structured interventions, either one-to-one or in small groups, can deliver benefits of between three and five months' additional progress.

Think about cost and evidence as well as impact: The most impactful approaches do not always provide the best value for money. For example, reducing class size has been shown to have a positive impact, on average (

3

additional months' progress), but because it requires new teachers it is fairly expensive (with a cost rating of

4

out of

5

). Other approaches have had the same impact at a lower cost. The strength of the evidence also matters. Homework in secondary school is estimated to deliver

5

months' additional progress. However, the evidence strength rating (

2

out of

5

) shows that this estimate is less reliable than most of the estimates in the Toolkit.

Draw on professional expertise: The Toolkit can tell you whether an approach has a good track record, but you need expertise and insight into your school's context to make a well-informed decision about whether to introduce it for your pupils. For example, parental involvement approaches have had an average impact of

3

additional months' progress. However, the evidence suggests that it can be difficult to get parents engaged in programmes in the first place. So specific knowledge of your school and its pupils is needed before you can decide whether a parental engagement approach would be feasible for you.
Feedback from Kate Sida-Nicholls, Secondary PGCE Course Leader highlighted how trainees were noticeably more curious, challenging and open minded about what they were studying following the session …. they were no longer simply taking her word for it, which she loved!
Keen to find out more about our work and the wide range of resources freely available from the EEF? Contact us at jfrancis@​unitysp.​co.​uk and we'll be only too pleased to discuss, design and develop evidence informed activity to meet the needs of your context.