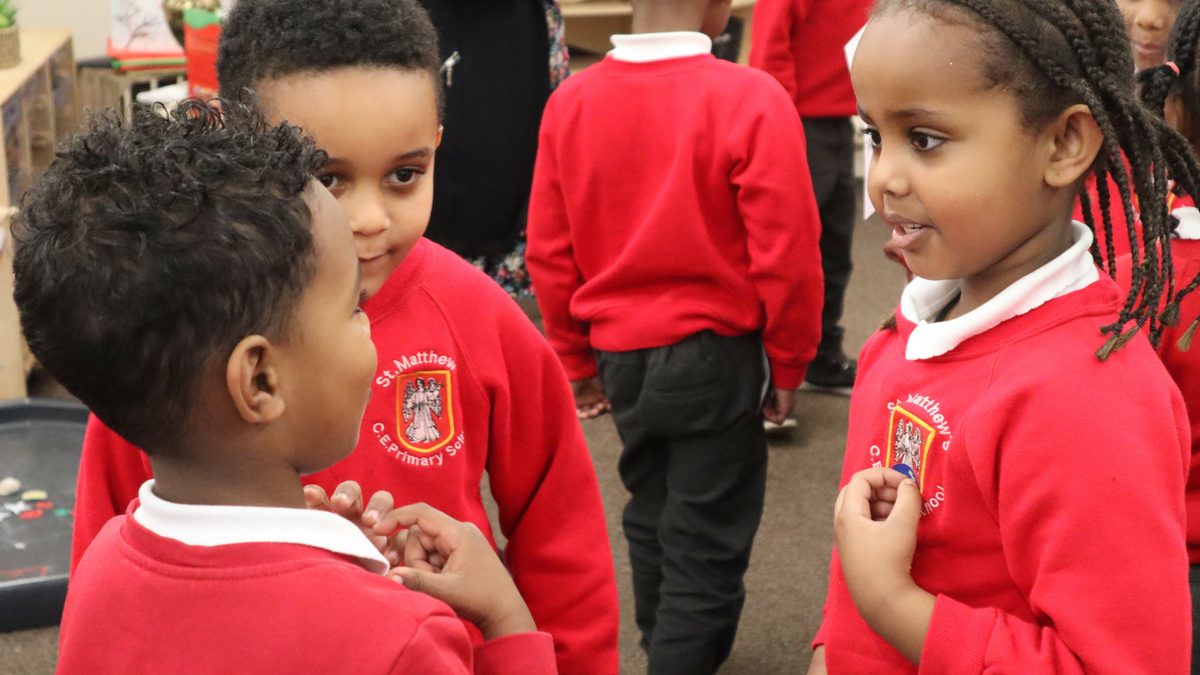 Research School Network: Oracy in Action: Developing Purposeful Talk in EYFS and Key Stage 1 Key messages from St Matthew's oracy conference
—
---
Oracy in Action: Developing Purposeful Talk in EYFS and Key Stage 1
Key messages from St Matthew's oracy conference
by St. Matthew's Research School
on the
We were proud to welcome over two hundred delegates to our conference exploring the importance of spoken language in the first years of school.
As the Education Endowment Foundation guidance reports make clear, prioritising communication and language in the Early Years is one of the best bets for building literacy and also for developing self-regulation and metacognitive skills.

Teachers can make a difference
Effective practice in school can compensate for children who have missed out on early language opportunities at home
---
Research makes a link between the amount and quality of conversation at home correlates and children's later attainment. It's a sad truth too, that not all children have equal access to this. One empowering message from Professor Neil Mercer's keynote speech, however, was that research has also shown that teachers can provide the second chance for children who have missed out on early language. It's a key lever for closing the learning gap, which is why St Matthew's will be working with Oracy Cambridge, Birmingham Education Partnership and the Education Endowment Foundation to bring a full early oracy programme to Birmingham schools.
Oracy Education and Dialogic Teaching
Build the skills of teachers and students
---
A second important message was that there are two important aspects of spoken language in schools.
Oracy focuses on explicitly teaching children the spoken language skills they need to enable them to be successful at school, in work and, more broadly, in life: learning how to talk. Research has demonstrated some effective ways of doing this.1 Social justice demands that schools build it into the curriculum. The Oracy Framework is a useful practical starting point for teachers.

Dialogic teaching, on the other hand, focuses on developing the spoken language skills of teachers, enabling them to use talk effectively as a strategy for building understanding of curriculum content. It can be summarised as learning through talk. Again, research has demonstrated that it's an important pedagogic approach. You can find a tool to audit the quality of dialogic talk in your school here.
It is the explicit intention of the Birmingham project to address both strands of spoken language so that we can fully harness their power.
The Birmingham Project
a partnership between the Research Schools Network, Oracy Cambridge and Birmingham Education Partnership
---
Uploaded: - 805.9 KB - pdf

Opens in a new tab
Birmingham programme overview
Read more about
To register your school's interest in joining the Birmingham project, please complete the form here.