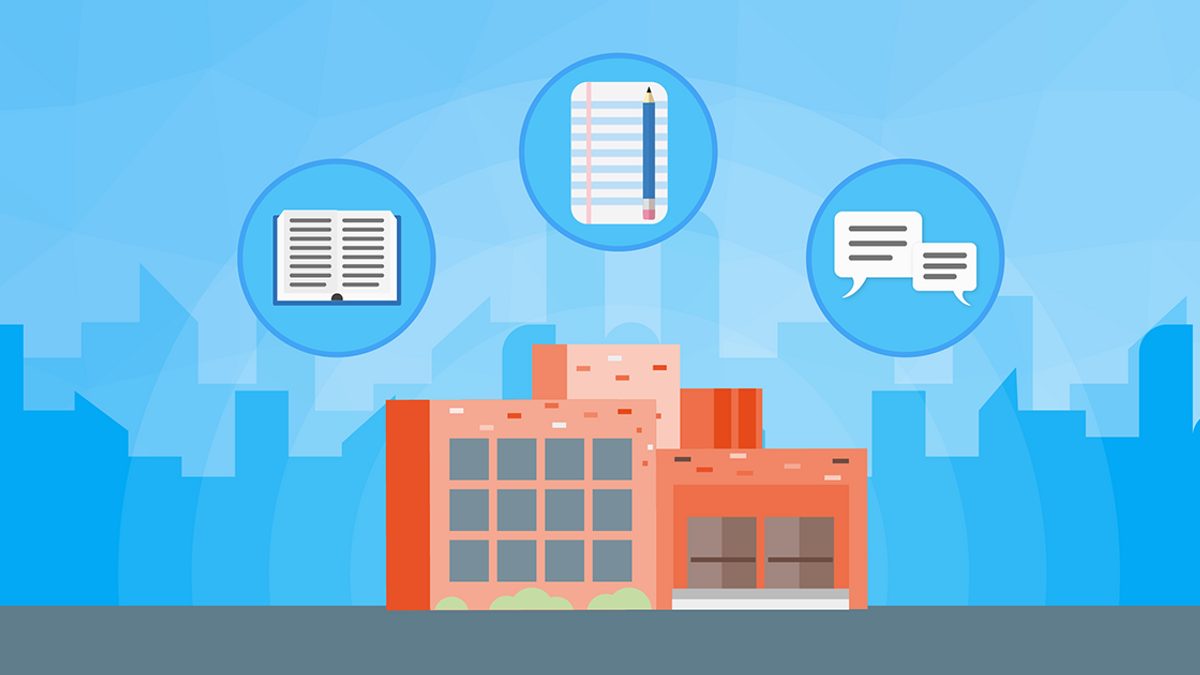 Research School Network: Getting to grips with remote A‑level teaching
—
---
Getting to grips with remote A‑level teaching
by Sandringham Research School
on the
by Kate Mouncey, Head of Sixth Form & Research School Lead
Like all teachers, I have had to get used to a very new, and very different way of teaching in a tight time-frame. There has been a lot of coverage and commentary from schools, teachers, parents and the press about how ​'home-learning' is going, and the challenges and opportunities that this brings.

Like everything else in education, the experiences and strategies differ according to context. In my case, my teaching is focussed on A level and so I have had to consider the pedagogy and requirements specifically required for this phase. Crucially, there has been no suggestion yet that the A level qualifications and assessments will be changed in 2021 and so we have to assume that the content must be covered in full. This is already a challenge in normal times, and so using remote learning to stay on track is daunting.

I really liked a blog published shortly after school closures, written by fellow geographer, Mark Enser; ​'Coronavirus: a 5 point model to deliver online learning'. Here, Mark uses very well established evidence based principles from Rosenshine to highlight the process of learning to really think through when considering our remote teaching. These are the principles recommended in normal face-to-face lessons, but now we have to adapt activities to use remotely, whilst keeping effective pedagogy at the heart of our decisions.

Enser's points are very well-aligned with the EEF document ​'Home learning approaches planning framework', which can be found here. This is just one of several really useful Covid-19 Resources published by the EEF which are designed to be used by schools and parents/​carers to support home learning. The document is based on the evidence based strategies recommended by the ​'Metacognition and Self-regulated Learning' Guidance Report and includes some excellent, straightforward examples of activities which could be used for each step.

My lessons are being delivered live, using Google Meet, and so my ideas related to Enser's 5 points are planned through using this platform, along with other Google applications.

Step one – Recap

Each lesson starts with a quick recap of what students already know about the topic. A quick quiz just using powerpoint questions, a Google Form or a programme like Kahoot with questions to recap knowledge. This enables students to get back into the topics being taught and for me to identify any issues in knowledge/​understanding.

Step two – Input

Due to the A level time-frame, I do have to teach new material, we can't consolidate or focus on practising prior concepts, which has been widely promoted as the focus for lower age groups. I explain something verbally on a few of the powerpoint slides; a key concept with examples. I am very slow and clear in explanation, only talking for 2 – 3 minutes and use video clips where appropriate.

Step three – Application

After explanation, students answer written questions or complete a simple worksheet. They tell me in the Chat bar when complete so that I can judge the pace. I give them some sentence starters or quick model answers to help them if they need it. I encourage them to seek guidance in the Chat bar and I am wary of ​'over-talking'. Giving them plenty of time to work through things is important.

Step four – Feedback

I am finding this the most difficult part. In live lessons, I am constantly observing and checking with students and I can judge immediate issues or misconceptions. Now, I use the Chat facility to ask students for quick responses, but it is a poor substitute. I have found that asking students to complete one question per week as a Google assignment enables me to check understanding; the question asked needs to be carefully considered and not too long. It tries to get to the heart of the key concept that I have taught. This does inform me about who has, or has not, understood fully. I am also aiming to provide model answers.

Step five – Review

I am building in specific time after topic areas to review small sections of content, through putting together a brief powerpoint of the key points with voice recording for them to go through at their own pace. I hope that this will help to make up for sketchy notes and lack of folder resources.

Other practical strategies which I have found to be beneficial in my first venture into remote teaching are:

- Setting up a Google Form as a register every lesson to check attendance and include a quick knowledge question for recall from weeks or months ago.
- Reducing the pace of the lesson slightly. I can't underestimate the need for very clear and slow explanations and ​'chunking' throughout the lesson.
- Preparing the same type of lesson every time so that students know the format to expect, and can prepare mentally.
- Publishing worksheets at least 24 hours in advance on Google Classroom so that students can either print them, or download.
- Reducing my demand on everything being written down, or for online folders to be up to date with work. Instead, focus on the learning and helping it to stick over time.

After two weeks of remote learning, I do feel that things have settled slightly and that both I, and the students, are much more comfortable with our new way of working. I am very much a novice in this area and I don't use new online applications with ease. However, I am clear that if the best pedagogy and principles are in place, the learning on any platform is likely to have some successful outcomes, no matter how clunky I am in my application of the IT skills!