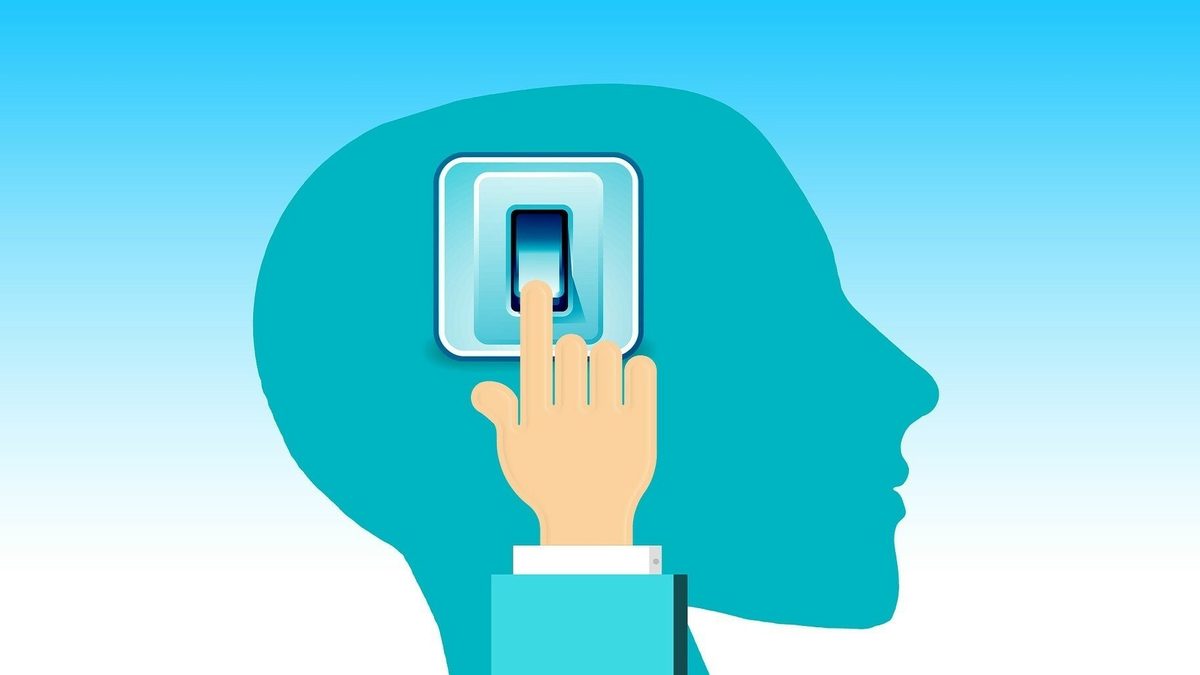 Research School Network: The Hidden Lives of Remote Learners Roger Higgins, Director of Norwich Research School
—
---
The Hidden Lives of Remote Learners
Roger Higgins, Director of Norwich Research School
by Norwich Research School
on the
What a start to 2021! In theory we are better prepared for remote teaching and learning than we were for the 2020 school closures; however some things are different this time around. For example:
Many schools are now seeking to deliver more complex remote teaching
Expectations of schools regarding the nature and quality of remote teaching have changed
The ​

'

problem' we are seeking to address with remote teaching is slightly different (for example: secondaries await news of how grades will be awarded whilst trying to reassure pupils; primaries are trying to juggle remote learners with a large volume of learners still attending school).
In an ideal world, schools will have had plans already in place for mass remote teaching, including training for staff. However, some schools and teachers may not be in this position, and in other cases plans may have been altered at short notice.
At Norwich Research School we have previously written about remote teaching, as well as discussing it during our Quick Start Webinars. This article expands on my (evidence-informed) opinion: if you are starting from scratch with remote teaching, then I think you should prioritise formative assessment.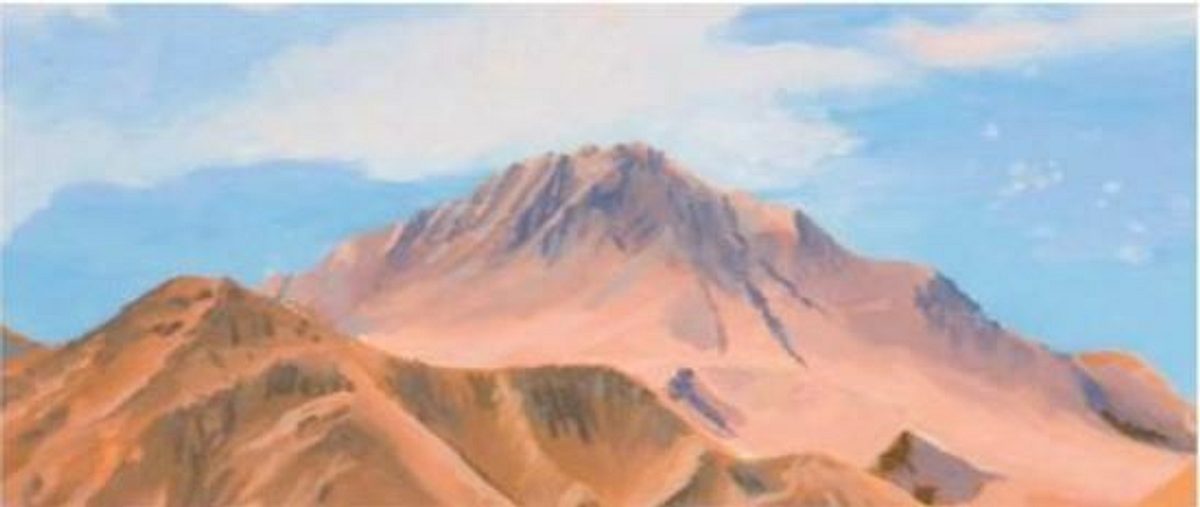 The hidden lives of learners
Why assessment and not explanations, modelling or scaffolding? Well, it is entirely possible to deliver excellent explanations and modelling along with appropriate scaffolding, and for it to fail to result in learning (a change in long term memory). Without assessment, you won't know either way. As Tom Sherrington quotes in championing Graham Nuthall's seminal book The Hidden Lives of Learners:

If we are to understand how teaching relates to learning, we have to begin at the closest point to that learning; and that is students' experience.
Nuthall's research helps us to understand how assessing learning is both challenging and yet essential. Nuthall describes three worlds which together shape a student's learning:
The public world: what we can see and measure as teachers
The highly influential world of peers
The student's own private world and experiences.
Assessment is a proxy for learning: we cannot be sure that the child has learnt what we intended them to learn, but we can increase our confidence that they have. For teachers, a key challenge is to maintain the ​'public world' view of their pupils during remote teaching. We also need to be mindful that the ​'world of peers' may be even more influential with pupils at home, connected to social media. Many teachers have had to challenge homework copied from peers in normal times; we want to reduce the chance that pupils avoid hard thinking when learning remotely, masking this due to ineffective assessment.
Whether live or asynchronous, how will you prioritise formative assessment?
There is much debate about live versus asynchronous remote teaching, with parents often wanting live. More schools are using video conferencing to conduct some or all of their remote teaching live in 2021 (although some are resisting this, for a range of reasons). The evidence is mixed on which is best, with the EEF advising that, ​'Teaching quality is more important than how lessons are delivered'. Whether or not to use live teaching is a decision for individual schools based on factors such as staff and pupil access to technology; pupil age; pupils' self-regulation skills; and whether live teaching can aid the peer interaction which the EEF states ​'can provide motivation and improve learning outcomes', to name a few.
The danger of focusing on the medium is that we may neglect teaching quality. Teachers gauge their own effectiveness through assessment. Formative assessment is the immediate priority for remote teaching, to enable teachers to decide whether to press on or to pause and reteach. I am not saying that work needs to be marked and individual feedback given: I am saying that right now we need feedback from the pupils as to whether they have learnt what we intended.
For me, how I am prioritising formative assessment is by accepting that I will need to assess more frequently during remote teaching (hinge questions). Together with the cumbersome nature of remote teaching and learning, I and my pupils are therefore working more slowly through our curriculum than in normal times. To borrow a phrase from an ex-colleague, ​'teach what you have time to teach well'.
Assessment can be done efficiently, remotely
Teachers are innovators and I am amazed by how colleagues have adapted to the switch to remote teaching. Formative assessment needs to be adapted for remote teaching, and we know that there can be a time cost to assessment. What we require is assessment which strikes the right balance between its value and that cost, as I learnt painfully last year trying to mark individual photos and scans of pupil work. This is partly why this article is a call to prioritise formative rather than summative assessment: summative assessment generally carries a greater time cost. The other reason is that I am not convinced that we need more marks in mark books right now, or that any recorded marks would be particularly reliable for measurement or judgement purposes.
The good news is that technology can have a role to play in improving assessment. Here are some of the ways we've seen and heard of making formative assessment work remotely: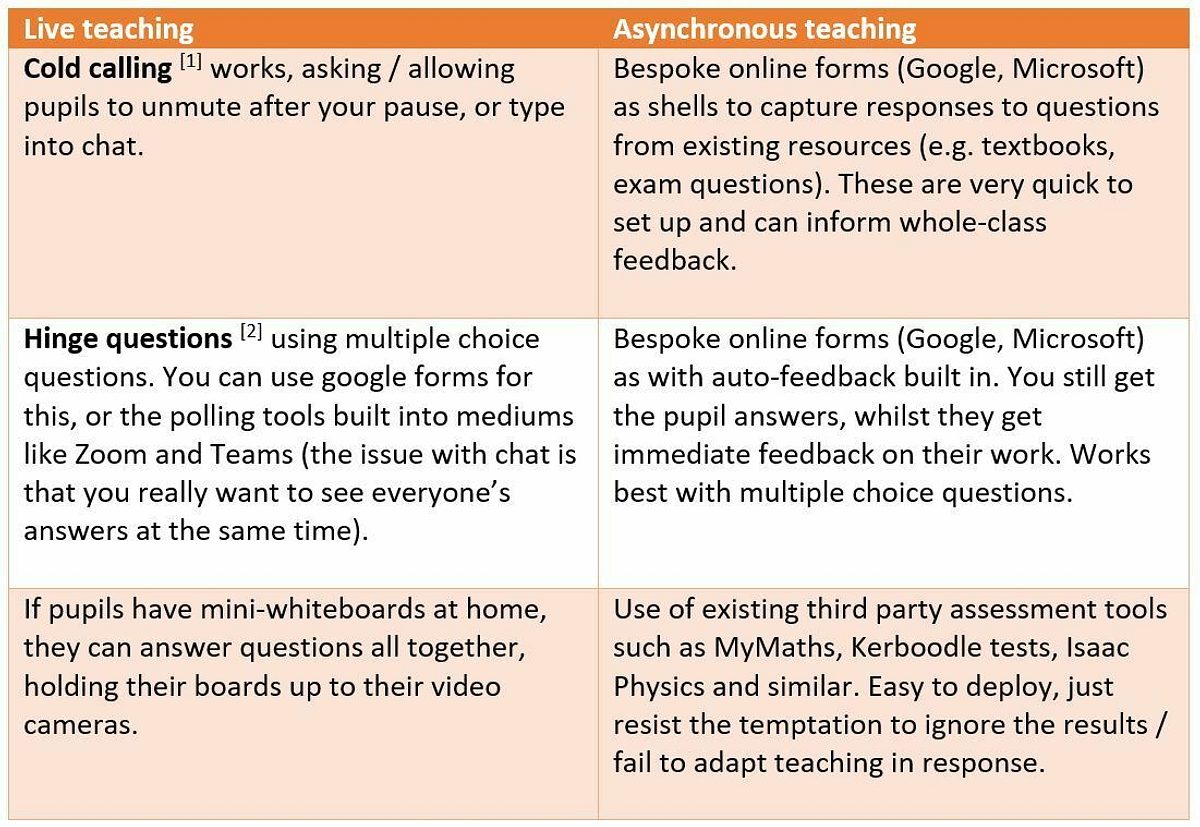 Combining such techniques with the idea that we as teachers don't need to assess all work, just that which tells us ​'what next for my planning', can help to manage workload.
Closing thoughts
The evidence base on what works best medium-wise for remote teaching is mixed and not specific to global pandemics. What we do know is that the principles of good teaching still matter, and using formative assessment is one of those. Ask yourself these questions:
Have I built formative assessment into my remote teaching?
What is the right frequency for this assessment when teaching remotely?
Does this mean that I need to change my planning style?
Am I genuinely adapting my remote teaching in response to what formative assessment tells me?
Do we need to agree to change the pace at which we attempt to move through the curriculum, to allow us to formative assessment effectively?