Research School Network: Pupil Premium Review and Renew Part 2 of 3
—
---
Pupil Premium Review and Renew
Part 2 of 3
by Manchester Communication Research School
on the
These are a series of blogs designed to guide leaders who are new to writing and reviewing a pupil premium strategy to ensure that it is used as an evidence-informed approach for closing the poverty-related attainment gap. These may also be beneficial to those wishing to refresh their knowledge whilst updating and refining their strategies for the new year.

In this blog, we are going to focus on evaluations and how we write the review of the previous year onto the DfE template.
Where should accountability lie when reflecting?
It is easy to make it look like strategies have worked in any strategy by finding and using one set of favourable data and ignoring others that show negative data, using teacher or student perceptions to define improvement, or using vague outcomes to start with, making improvement easy to show.

We can sometimes add to the disadvantage gap by not taking the time to review pupil premium strategies or using poor methods to do so. We need to break the connection between evaluating the process in place and our accountability to the DfE or Ofsted, where trying to prove success may impact outcomes of disadvantage.
'Sometimes, accountability can lead too much towards external bodies such as the DfE and Ofsted and not enough towards disadvantaged students and their families.'
Intended outcomes.

Often when looking at our intended outcomes they are numerical, for example: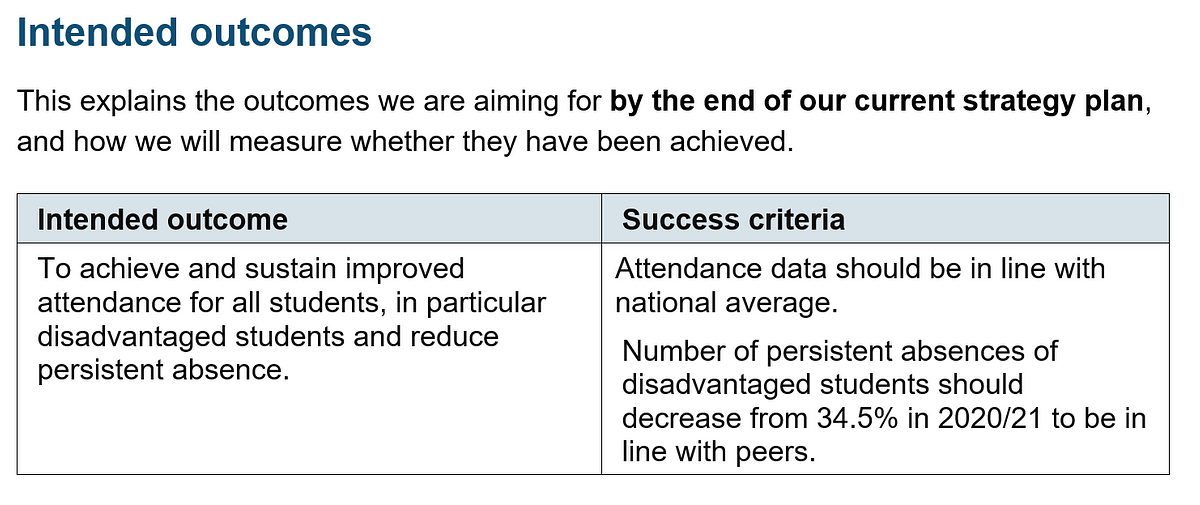 Numerical outcomes are easy to evidence as attendance data has either improved or it hasn't. There are a variety of data-informed evidence measures that can be used from test scores, library attendance data, to the percentage of staff at CPD sessions but be wary that there are always weak areas in data. Be clear on what the data is showing and how it was created before making your judgements. See EFF Gathering and Interpreting Data Summary for further information on collecting data fit for purpose.



What should the review look like?

The evaluation of your pupil premium strategy should ideally be ongoing and treated as a part of the overall implementation rather than smaller events at key times of the year (See EEF Putting Evidence to Work: A School's Guide to Implementation). But if you are picking up the pupil premium strategies for the first time this may not be possible to start with.


For pupil premium evaluations to be effective it:


Should check whether the activity in place is having an impact.

Should be measured on the impact of data from disadvantaged students.

Should focus on the attainment of students' improvement rather than the strategy itself being successful.

Should be a critical reflection of the ongoing process and the measure of progress you have made towards your ​

'

intended outcomes'.

Should ​

'

ensure that evaluation is an ongoing process – strategies that have been effective in one year may not continue to be effective the next'. (DfE,

2023

)



An example of how this may look is demonstrated below.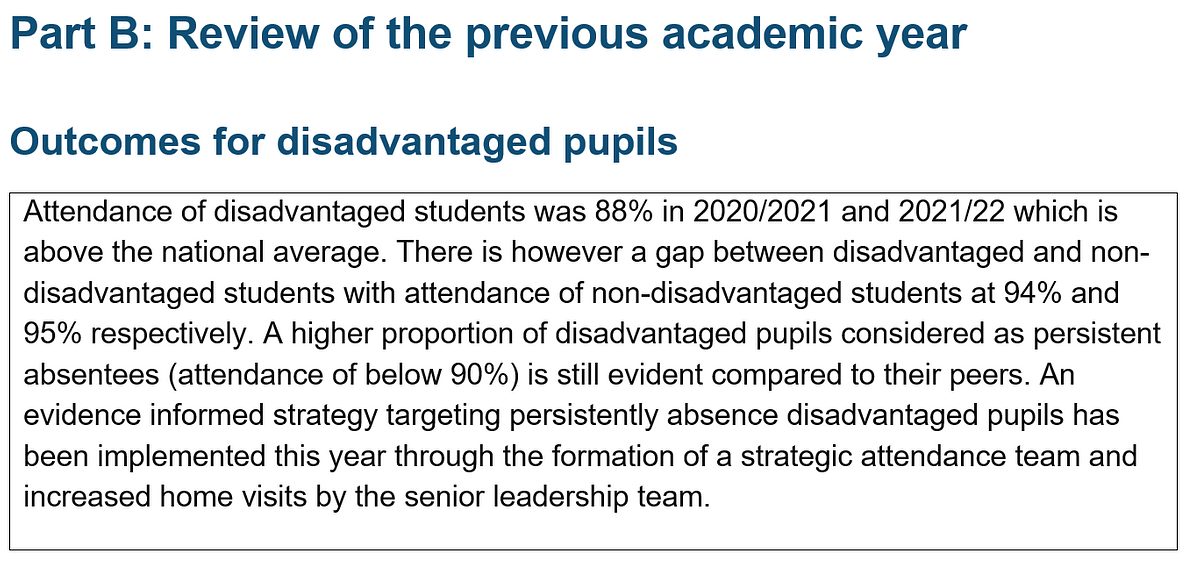 Remember to evaluate the processes (activities) alongside your outcomes. ​'It doesn't matter how great an educational idea or intervention is in principle; what really matters is how it manifests itself in the day-to-day work of people in schools.' (EEF, 2019, p.3)

You may wish to continue with a strategy but recognise that it needs thoughtful adaptations to improve the approach. This may be actively tailoring CPD with the use of expert teachers or follow-on support from the initial CPD training. You may wish to stop doing things too! Not every strategy works in every context! In previous years due to time constraints, schools have been tempted to use short-term strategies that are easier to implement and demonstrate success, rather than a more complex strategy that may take longer to see impact. This information could be added to the ​'further information' section.

An effective pupil premium strategy needs to be continuously monitored as part of a wider implementation plan, adapting the strategies where appropriate for success. Any strategy is likely to be more successful if it has been planned to be sustained and monitored. How to implement a pupil premium strategy can be found in the EEF new updated ​'Guide to the Pupil Premium'- due mid-September.
References

Rowland. (2021). Addressing Educational Disadvantage in Schools and Colleges: The Essex Way. p99

Manchester Communication Academy. (2022). Pupil Premium Strategy Statement 2021 – 24. Available from here

DfE. (2023). Using pupil premium: guidance for school leaders. Available from here

EEF. (2019). EEF Putting Evidence to Work – A School's Guide to Implementation. p.3. Available from here

DfE. (2022). Pupil Premium Example Statement (Secondary). p.11. Available from here
More from the Manchester Communication Research School
Show all news