Research School Network: Reading, Oracy and Vocabulary – Dr Jessie Ricketts Amy Carlile follows up on the excellent webinar exploring the relationship between reading, oracy and vocabulary
—
---
Reading, Oracy and Vocabulary – Dr Jessie Ricketts
Amy Carlile follows up on the excellent webinar exploring the relationship between reading, oracy and vocabulary
by Greenshaw Research School
on the
As part of the Greenshaw Research School Developing Reading Series, Dr Jessie Ricketts, Head of the Language and Reading Acquisition (LARA)research lab at Royal Holloway, University of London, delivered a fascinating webinar exploring the relationship between reading, oracy and vocabulary.

As the webinar progressed, it became increasingly clear that now more than ever, we need to consider how best to support our students' reading development, particularly the disadvantaged who will perhaps have been most affected by school closures.

Despite the urgent need to focus on reading and oral vocabulary development in early adolescence, Ricketts acknowledges that there is in fact very little research into this area, with much of the existing research focusing instead on early reading development.
So, what does the existing research tell us about reading development in early adolescence and how can we use this information to support teaching and learning in the classroom?
Being able to read effectively hinges on two key components: word reading (being able to read words accurately and fluently) and comprehension (understanding the meaning of the texts being read). These components are known as the Simple View of Reading (Gough & Tunmer 1986) and Ricketts defines them as essential in contributing to a student's reading success.

In the early stages of reading development, she highlighted that the focus is on phonology (what words sound like) and semantics (what words mean). Ricketts suggested that there are many ways of thinking about word knowledge and that we can explore these in the classroom in the following ways:
Teach aspects of word knowledge (e.g. labels, parts of speech etc.)
Explore different types of words (e.g. tiers of vocabulary)
Breadth vs depth (Introducing students to words they don't know and teaching them more about the words they do know.)
Different senses, different contexts. (Making links between the vocabulary used in different subject areas for example)

Ricketts argued that vocabulary is about a lot more than simply placing a label on an object and creating a mapping between the two, although in the early stages this is of course important as young children point to words and label them.

She also explained that once we start learning to read, we then also begin to add visual word knowledge to our memory store of words. For example, we add orthography (written form of words) to what we know about phonology and semantics. She identified that we have a stored knowledge of words that we can use in different ways: understanding words, speaking words, reading words and spelling words.

Word knowledge is described by Ricketts as being ​'a building block for reading and oracy' and that once reading is secure, it provides important opportunities for learning new words. This is referred to by Ricketts as ​'a virtuous circle', referring to the work of Pamela Snow (2016):Language is literacy is language.
What does the research say?
---
During the webinar, Ricketts shared some of the key messages from the Aston Literacy Project, which tracked reading and vocabulary progress in the same children as they moved from primary to secondary school (Year 5 to Year 8).

Interestingly, the research identified that there is in fact progress in vocabulary and reading between primary and secondary and that there is no current evidence of a primary/​secondary slump, which is often assumed to be the case. Ricketts explained that progress measures were found to be very similar to those that you would experience during a normal summer break. In contrast, reading comprehension did not experience the same growth during the summer holiday, as seen in the graphs below.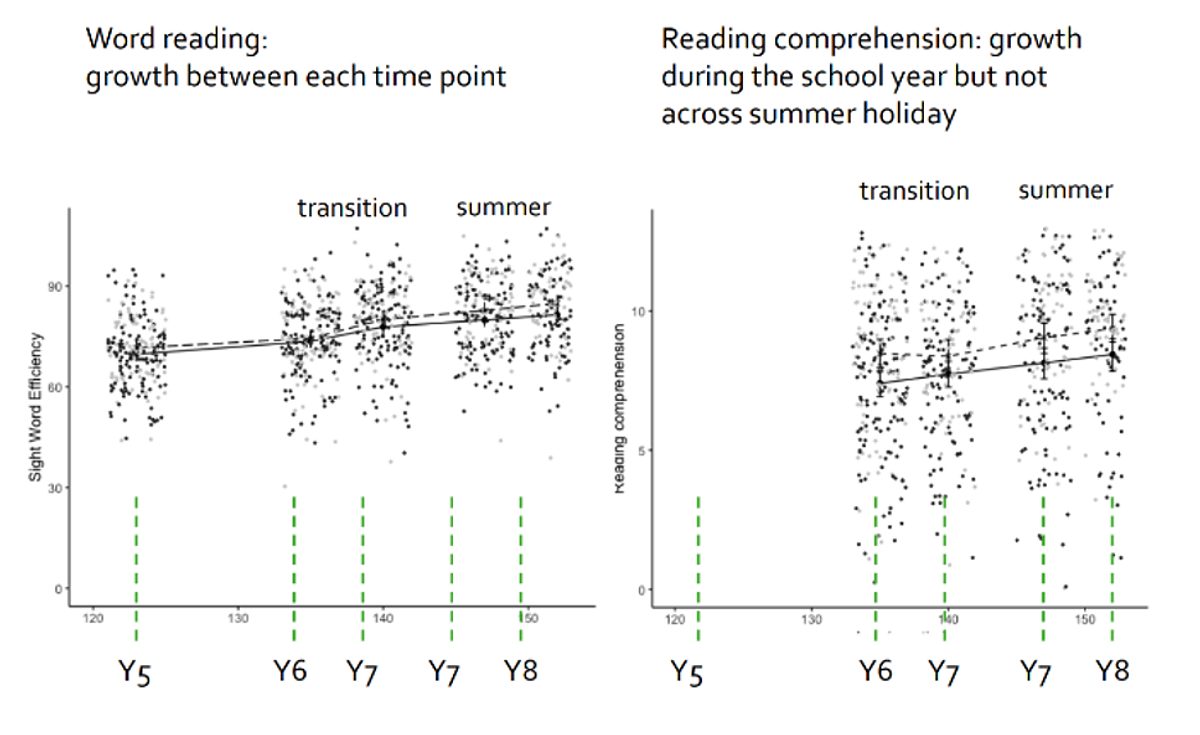 The project also measured Tier 1 vocabulary and curriculum relevant vocabulary and found that in terms of everyday vocabulary, there appeared to be progress across transitions and summer holidays. However, with regards to curriculum specific vocabulary, growth was demonstrated more so when students were in school.
Tiers of vocabulary are championed by Ricketts as being a useful distinction in thinking about the kinds of words that we want and need our students to know. The importance of Tier 2 vocabulary was also highlighted by Ricketts in Bridging the Word Gap at Transition, where she suggests that if we're going to teach words at school to pupils, then it's Tier 2 words that we need to teach, because they are the words that are really going to help pupils operate across different topics.

This finding also raises the question as to the potential impact that recent school closures may have on students who had challenges with reading beforehand and whether this will indeed result in a further widening of the disadvantage gap. These concerns are also illustrated in the recent work carried out by Oxford University Press (OUP) and the Centre for Education and Youth (CfEY) who state that 92% of teachers think school closures (due to Covid-19) have contributed to a widening of the word gap.
Reading, oracy and vocabulary development
---
Dr Ricketts also had other suggestions to support in the classroom which include:
using visual forms when teaching does seem to help students learn new words. This is explored further in To see or not to see: how does seeing spellings support vocabulary learning? where it was found that there is strong evidence that the presence of a word's written form leads to improved learning of its spelling and spoken form;
the importance of exploring vocabulary in bite-sized chunks in order to help to avoid cognitive overload;
explicitly teaching Tier

2

and Tier

3

vocabulary may also prove to be highly beneficial to students vocabulary development, as a large number of these words still remain unfamiliar to many students.
spaced practice and repetition of vocabulary is useful in the development of vocabulary knowledge and understanding. This is also explored by the EEF, who outlined the importance of providing multiple opportunities to hear, see and use new words;
the importance of developing the number of words students know (breadth) and their understanding of relationships between words and the contexts in which words can be used (depth);
the value of undertaking regular low-stakes assessment and retrieval practice in continuing to provide pupils with exposure to complex subject specific vocabulary and to assess what they do and do not know;
the importance of sleep in providing students with time for consolidation of knowledge. It has been found that students were more able to remember words after sleep and children who knew more about words to start with learned the words better.
We are now looking forward to hearing more from Dr Jessie Ricketts with regards to her future research on exploring the use of incentives and rewards to promote reading and the development of a co-designed intervention to motivate and engage readers.
Amy Carlile, Evidence Lead in Education