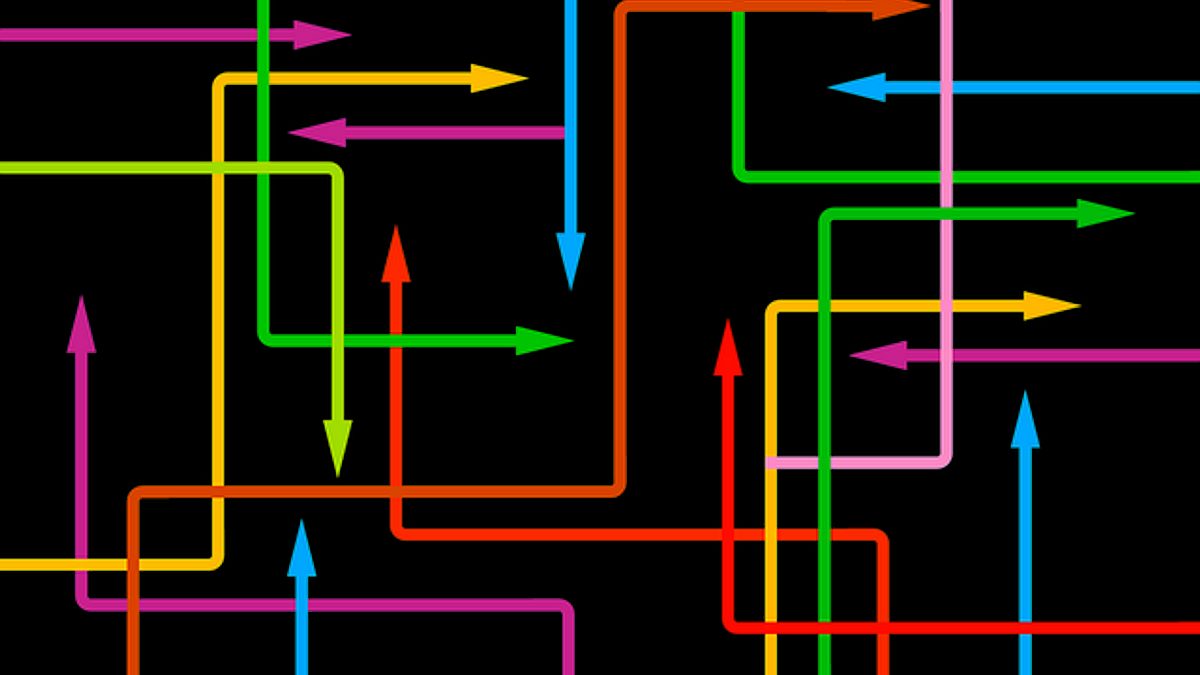 Research School Network: Making Knowledge ​'Rich' Laura Fisher, Head of Computing at Dixons Trinity Chapeltown, on the role of Knowledge Organisers in a knowledge rich curriculum
—
---
Making Knowledge ​'Rich'
Laura Fisher, Head of Computing at Dixons Trinity Chapeltown, on the role of Knowledge Organisers in a knowledge rich curriculum
by Bradford Research School
on the
We all want our curriculum to be ​'knowledge rich', to be saturated with engagement and mind-blowing knowledge, to thrill and excite all. Sometimes we come across a topic that we ourselves simply relish in delivering and we bubble over with passion and bombard students with facts, figures and anecdotes. The advantage? We impart knowledge and students devour and thrive off our excitement. The drawback? They probably didn't need to know it, or will not remember or worse still – it'll replace something important in their brain. Knowledge rich doesn't mean we need to inform them of every quirk or unique identifier to our subject, it also doesn't mean we need to showcase the entirety of our expertise, it simply means students need to know what we need them to know in order to be successful.
Classroom teachers are looking closely at their curriculum in order to determine the ​'richness' and validity of content. Adaptations to the Ofsted framework also prioritise curriculum, and they state that those in charge of the curriculum need to consider whether it provides the ​'invaluable knowledge they want pupils to know', and if it does, how this is presented to students in a memorable and structured manner.

For us, at Dixons Trinity Chapeltown, we agree with this focus on curriculum, and this has meant an introduction and thorough implementation of Knowledge Organisers.
Why we use Knowledge Organisers
Bradford Research School, part of the Dixons Teaching Institute, defines Knowledge Organisers (KO) as being ​'a one-page document which presents curated, essential, organised knowledge with clarity. Knowledge is presented in a format which facilitates retrieval practice, elaboration and organisation, in order to develop a schema'. Using that definition, at DTC, we have deeply reviewed our curriculum and created KOs that are all-encompassing without being all-encompassing. Careful consideration, and collaborative discussion to ensure we were able to include the fundamental knowledge that will build cultural capital and encourage natural curiosity. Knowledge Organisers are used cross-phase and are designed to contain information that we need students to learn, recall, and most importantly, remember long-term.

Knowledge Organisers are designed to:

Contain relevant and critical information
Support both learner and teacher
Be memorable
Have a consistent format
Highlight to learners what is upcoming
Allow for retrieval and easy revision
Show lesson and knowledge sequencing
Support lessons and homework
How we use Knowledge Organisers
We are an all-through school. In the early stages of study, Knowledge Organisers use dual coding and font-styles in line with what the students are familiar with, as shown opposite. This is an example of a Computing Knowledge Organiser used with Year 1 children. By the end of the topic, I need students to be able to name parts of a computer and verbalise their function. The creation and implementation of a Knowledge Organiser, even in the primary phase, has supported me with this. Families will review the KO with their child and support them to read and understand the content. Then in lesson, retrieval practice built upon the KO content is completed to help assess and evaluate impact. Teachers include the KOs as part of their classroom display as a constant resource for children and they are addressed in lesson as a rapid recap activity.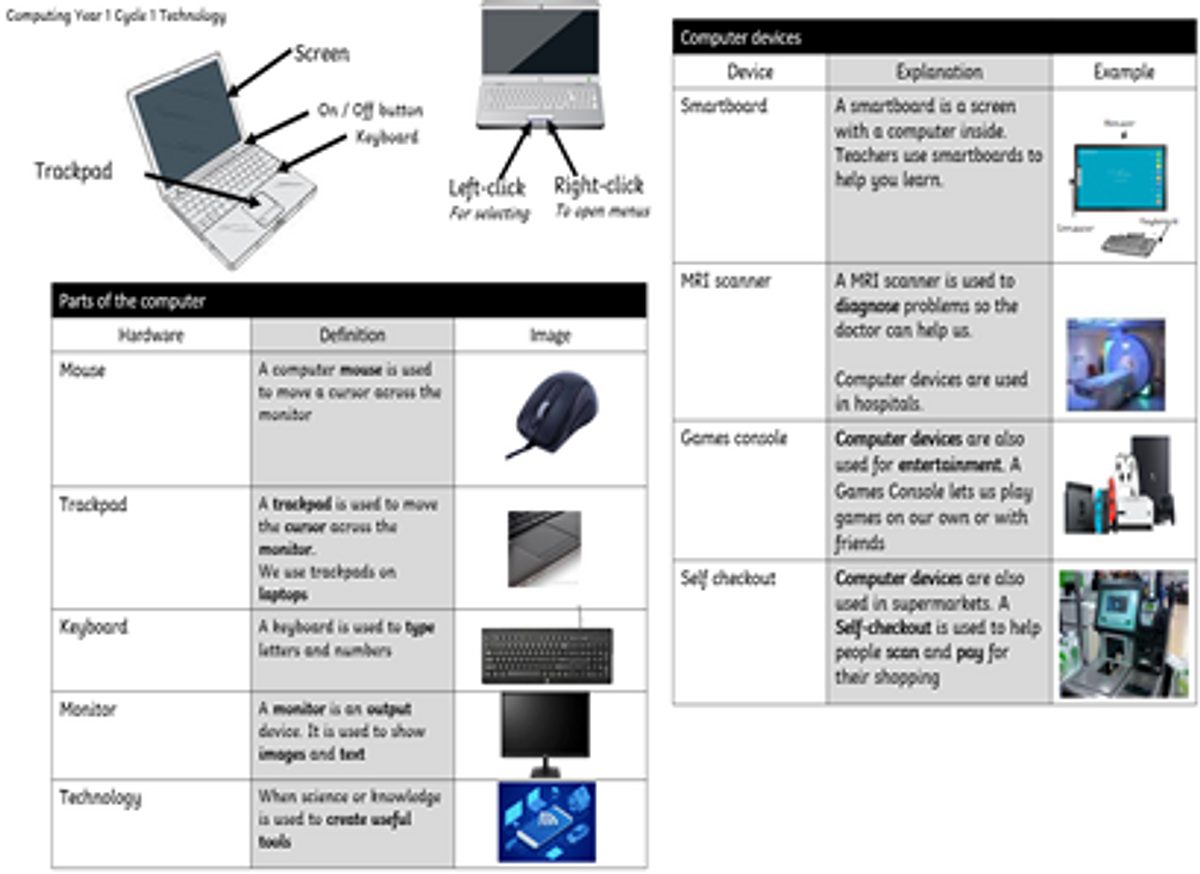 In the Secondary phase, Knowledge Organisers follow a similar structure. They are tabular, with key terms and definitions following a particular theme. This helps to reduce the cognitive load for students and helps teachers to create content that is vital yet laconic. Knowledge Organisers are not subject-independent, but they are subject-specific. Knowledge Organisers can be used in Music, Art, French, PE, Computing etc with the only limitation being the succinctness required to be truly effective. One of the true magnetisms of the KO for me, as a cross phase lead, is having the ability to instantly review the entire curriculum from Year 1 to Year 11 and truly determine what our students should know. This has had a positive impact on interleaving practice and has enabled me to develop a curriculum that continues to build on foundations and expand, expand, expand each phase.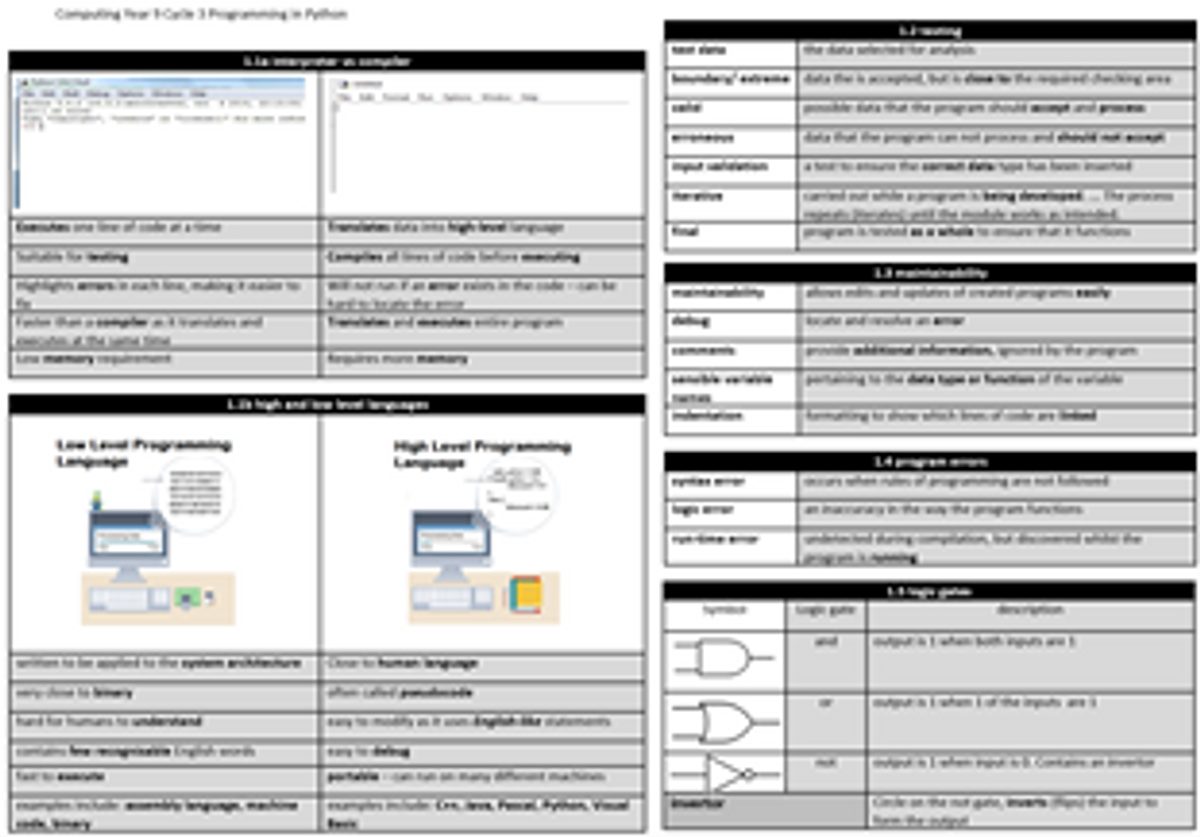 When students begin their examination studies, the Knowledge Organiser becomes a valuable revision resource. For each unit, the students know exactly what key terminology they are expected to understand and can revise and revisit often. By this point in study, students are familiar with the layout and read the content with interest, understanding the significance. In language lessons, the KO can include all pertinent vocabulary to support, stretch and challenge as well as acting as a resource to constantly upskill written practice.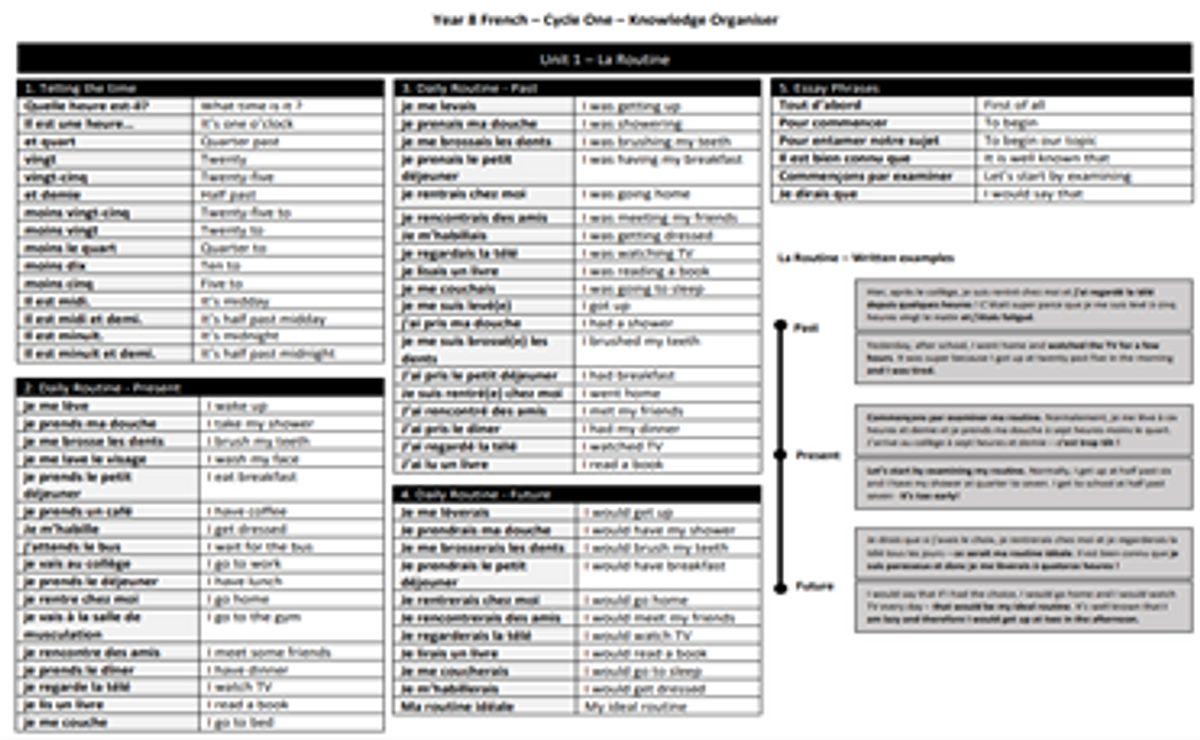 How can KOs impact your classroom practice?


The knowledge you want your pupils to have by the end of the unit is pre-planned and well-considered ahead of teaching.
Different aspect of the unit such as facts, definitions, concepts etc are produced in an easy to read and use format.
The same Knowledge Organiser can be given to all, to use as a foundation for scaffolding and differentiation.
Pupils will know what they are learning and can use to recap any information. Promoting independent study.
Recap the knowledge regularly. Don't just recap something once and assume that it is learnt. For the knowledge to secure in long term memory pupils must revisit it on numerous different occasions.
Can be used as an evaluative tool for students to self-assess and identify gaps.
Supports easy, frequent retrieval practice to develop schema.