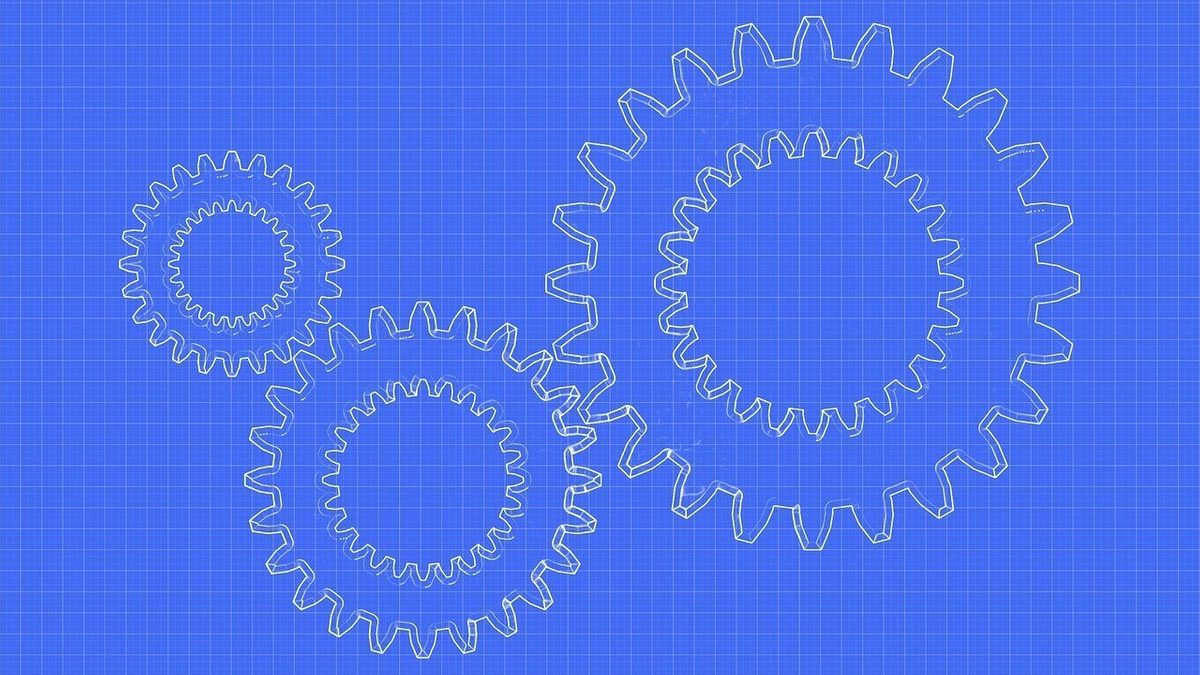 Research School Network: Breaking Down Complex Writing Tasks Part 3: Planning Mark Miller, Head of Bradford Research School, continues our series on writing
—
---
Breaking Down Complex Writing Tasks Part 3: Planning
Mark Miller, Head of Bradford Research School, continues our series on writing
by Bradford Research School
on the
Recommendation 4 of the EEF's Improving Literacy in Secondary Schools is ​'Break down complex writing tasks,' and it acknowledges that even seemingly simple writing tasks can be more complex than we at first imagine. Because writing is central to so many subjects, we must try to understand just what makes writing so hard. Over a series of blogs, we are exploring how to address each of these elements. This time we look at planning.

Catch up on our previous blogs in the series:
In the guidance, they write the following about planning writing:
Explicitly teaching students planning strategies, such as how to use graphic organisers. Over time students should develop proficiency using a range of strategies, and develop the ability to choose between them depending on task and audience.
But this is easier said than done. One way to tackle the challenge is to use the EEF's 7‑step strategy, as outlined in the Metacognition and Self-regulated Learning guidance report:
1 Activating prior knowledge
2 Explicit strategy instruction
3 Modelling of learned strategy
4 Memorisation of strategy
5 Guided practice
6 Independent practice
7 Structured reflection
(The guidance report outlines how to use this sequence to model a graphic organiser planning strategy in history, which I won't replicate here.) Every part of this is important, but in this post I will draw further attention to a couple: modelling of learned strategy and structured reflection.
Modelling of the planning process
Our goal when modelling a planning strategy is more complex than it seems. First of all, we have to model the strategy so that pupils know exactly how it works. But we also have to make explicit some other elements, such as when it is and isn't an appropriate strategy, why planning itself is effective. Ultimately, the planning tool we choose to teach will form one strategy in a repertoire that pupils can choose from.

One of the most powerful ways that we can model some of these processes is by thinking aloud. Recommendation 3 of the Metacognition and Self-regulated learning guidance report is ​'Model your own thinking to help pupils develop their metacognitive and cognitive skills. In it, they write:
To move from novice to expert, our pupils need to know how an expert athlete, artist, historian, or scientist habitually thinks and acts. We need to make these largely implicit processes explicit to our novice learners.
We need to think about these processes that are innate to experts, but which need to be showcased to novices. Scardamalia (1984) has outlined a technique to help with this called ​'procedural facilitation', which ​'consists of routines and external aids designed to reduce the processing burden involved in taking on the advanced self-regulatory strategies of the expert':

​'Step 1: Identify a self-regulatory function that appears to go on in expert performance but that does not go on or that goes on in an attentuated form in student performance: for instance, revision or planning.' In this instance, planning strategies.

​'Step 2: Describe the self-regulatory function as explicitly as possible in terms of mental operations or functions.' Here we are being very explicit about what exactly is going on in the planning process. What is thought as much as what is done.

​'Step 3: Design external supports or teachable routines for reducing the information processing burden of the mental operation.' These may be shortcuts or generic prompt phrases.
Here are some concrete exampels of what that might look like. In Teaching Secondary Students to Write Effectively, from What Works Clearinghouse, they list ​'types of modelling statements', the things that teachers should make explicit when thinking aloud as they model the planning of writing:

Defining the problem e.g. What am I being asked to do here?
Focusing attention and planning e.g. What steps do I need to take to be successful here?
Choosing a strategy and implementing it e.g. What is the best strategy to achieve my goals?
Self-evaluating and error correcting e.g. Does my conclusion match my opening?
Self-reinforcement e.g. I'm really happy with that.
The example below, taken from the guide, is from a science teacher: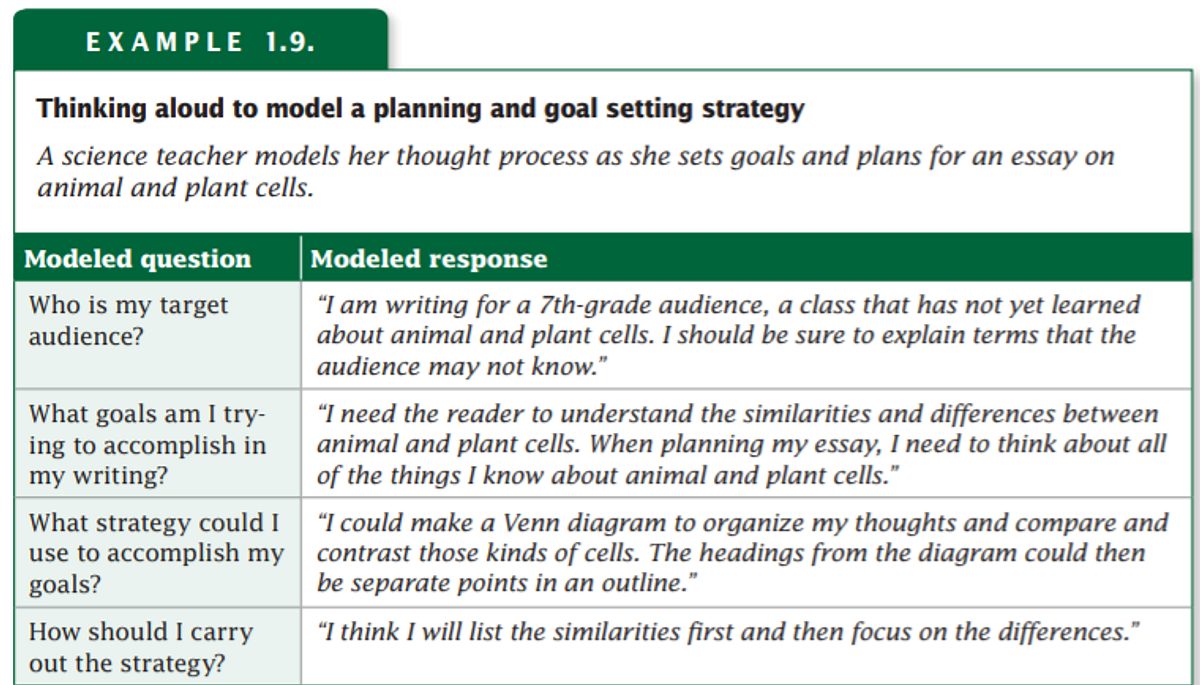 Structured reflection

This is the seventh stage of the 7‑step model, but it is one that can often be neglected when looking at metacognitive strategies such as planning tools. Sure, we often encourage reflection on success in a task, but how often does that focus on a rubric that is just about the quality of the writing? Of course, the quality of the writing is important, but so is attributing the success of the writing to something. And whether the plan was effective or otherwise is important in being able to understand whether to continue with that method, adapt it or choose another one.

If the initial teaching of the planning strategy has been clear about the intended goals, it will be easier to reflect. The reflection becomes about effectiveness of the strategy rather than rating the quality of a piece of work. It is less likely that the response will be defensive, and more likely it will become adaptive, that it will lead to continuation or changes in the planning strategy or the choice of another one. Reflection will also help with the teaching of the next planning strategy, because now we can refer to the effectiveness or otherwise of the previously taught one. The constant act of this kind of reflection helps pupils to reflect on their own progress rather than comparing to others. They make strategy or method attributions rather than personal ones.
There is perhaps a gap here in the teacher modelling of this. If the teacher is going to model this reflection process, then they would have to turn their modelled plan into writing.
I haven't even touched upon the use of graphic organisers as a planning strategy here. This will be covered in a future post. I just have to plan it…
Scardamalia, M. and American Educational Research Association, W. D. (1984) Higher Order Abilities: Written Communication. Available at: https://files.eric.ed.gov/fulltext/ED273573.pdf
Graham, S., Bruch, J., Fitzgerald, J., Friedrich, L., Furgeson, J., Greene, K., Kim, J., Lyskawa, J., Olson, C.B., & Smither Wulsin, C. (2016). Teaching secondary students to write effectively (NCEE 2017 – 4002). Washington, DC: National Center for Education Evaluation and Regional Assistance (NCEE), Institute of Education Sciences, U.S. Department of Education.