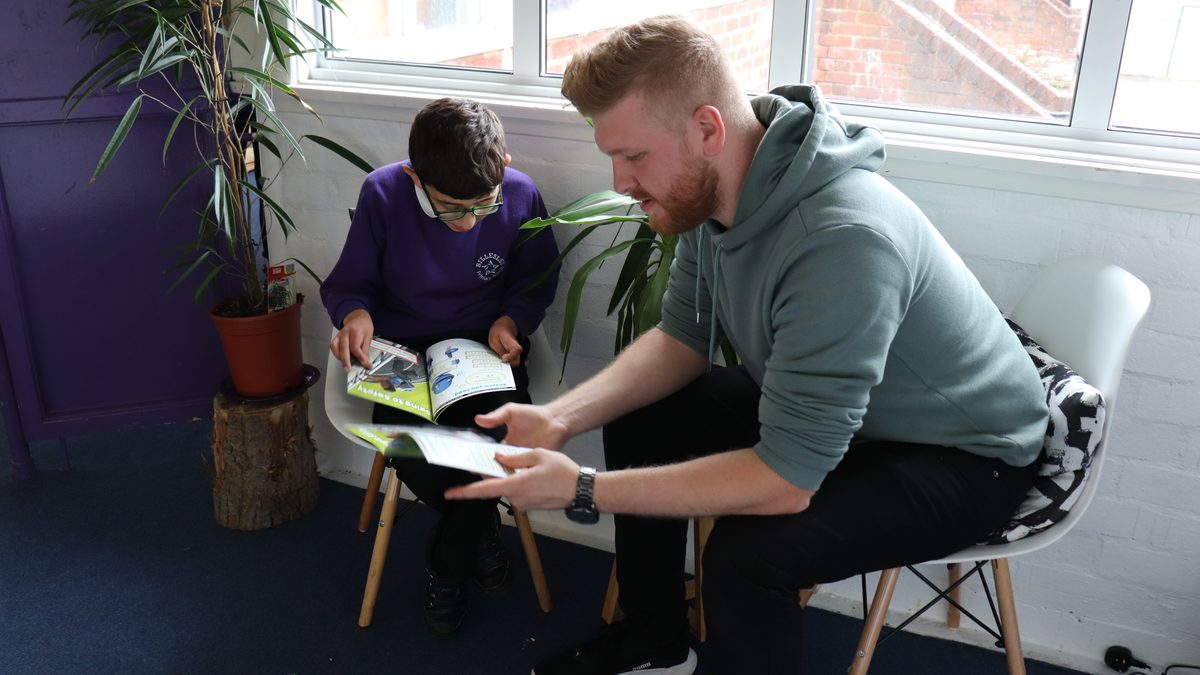 Research School Network: Implementing Teacher Feedback to Improve Pupil Learning Dr Elizabeth Ford explains how evidence-informed recommendations supported her reflections in shaping feedback policy
—
---
Implementing Teacher Feedback to Improve Pupil Learning
Dr Elizabeth Ford explains how evidence-informed recommendations supported her reflections in shaping feedback policy
by Billesley Research School
on the
Senior leader and ELE Dr Elizabeth Ford explains how the evidence-informed recommendations from
our latest guidance report has supported her reflections in shaping the feedback policy in readiness
for implementation across the whole school.
In January I started as Deputy Headteacher at a new free school opening this September in the
community of Yardley Wood, Birmingham. I have held whole school leadership responsibilities
for fourteen years; and during this time, I have taken a keen interest in research and practice
behind formative assessment and feedback (providing teaching that is adaptive to pupils' needs
and using evidence about learning to adjust instruction to ensure that learning moves forward – EEF).
It was the area of focus for my master's dissertation back in 2006 and a few years later I explored
the research in depth again to implement an innovative feedback and marking policy in the
school I worked in at the time. So why then did I draw such a blank when tasked with writing the
feedback policy for the new school?
When considering our pedagogical approach, I explored the evidence and wrote the mandate in
preparation for successful implementation. But for feedback, I explored the evidence and the
page remained blank. I met with colleagues to discuss current practice across a range of schools.
We considered the ​'opportunity cost' to staff and the impact workload can have on teachers' time
spent on other tasks. Following a muddled path, we drew out some key ingredients which
allowed us to write our feedback policy. However, I have since spent a lot of time re-reading it
and reflecting upon it, going back to the evidence, and taking time to rethink. In my reflections I
did not think we were being explicit enough in our expectations. The ​'tangled web' (Shute, 2007)
of research was exposing itself in the policy. Agreeing with Ruth Dann (2018) there is no
​'straightforward model or recipe for ​"effective feedback". However, as senior leaders it is our
responsibility to ensure that for our teachers the feedback policy is uncomplicated, and that
implementation is carefully considered, including the professional learning and wrap-around
support that it will entail so that sustained changes are made to benefit our students' progress.
Imagine then how pleased I was to read a copy of the EEFs recently published Teacher Feedback
to Improve Pupil Learning Guidance Report. Feedback is ​"information given by a teacher to pupil(s)
about their performance that aims to improve learning". Focusing on this as the definition I could
feel the web unravelling!
I jumped straight into recommendation 1 – lay the foundations for effective feedback to shape
my reflections. As I alluded to earlier, Our pedagogical approach has been written with our three
teaching and learning foundations at the core. Utilising Doug Lemov's Teach Like a Champion
(2015) it provides our teachers with a consistent approach and universal language within every
lesson, every day. Incorporated within are the nine EEF points to delivering effective teaching.
Satisfied with our starting approach, an implementation plan has been written in readiness for
September. Through this, teachers will provide the initial crucial high-quality instruction, which in
turn reduces the work that feedback needs to do. ​'Feedback can only build on something; it is of
little use when there is no initial learning or surface information' (Hattie and Timperley, 2007).
There are two identified strategies that must be led in the classroom first: ​'clarifying, sharing and
understanding learning intentions and success criteria' and ​'eliciting evidence of learning'. Our
pedagogical approach does this.
At the start of our pedagogical approach is well planned lesson sequences. Each subject expert
has designed their curriculum and from this created effective topic sequencing. Delving further
into the topic planning has meant methodically asking how one day's lesson builds from the
previous, and how it prepares for the next. It is about placing the mastery learning objectives
into a sequence and using this as the starting point for all individual lesson plans.
Step 1 refine the mastery learning objective based on knowledge and understanding of prior
understanding.
Step 2 plan assessment through a deliberate independent piece of work within each lesson,
which will effectively determine whether the mastery objective has been met. The task is
planned carefully with feedback in mind, providing the evidence to the teacher on what a
student is thinking.
Step 3 plan activities including guided deliberate practice that leads all to attaining the mastery
objective.
Every lesson will share the learning intention providing both the teacher and student with a
shared understanding of the ​'concept of quality' and feedback can then be used to move
students towards this concept (EEF). Effective formative assessment at this stage requires the
teacher to read students work regularly. It is only when assessing where a student's learning
gaps are for the independent task, that feedback can be given to address areas of improvement.
With the foundations for effective feedback laid as per recommendation 1, time to reflect on
recommendation 2 – deliver appropriately timed feedback that focuses on moving learning
forward. Feedback needs to be either given in the moment or delivered up to a week after
focusing upon specifically the task, subject and/​or students' self-regulation. In the past the
frequency of feedback has been explicitly specified in the feedback policy, but the
recommendation suggests that it would be more productive to leave decisions on the timing of
feedback to classroom teachers. Classroom teachers should use their professional skill and
judgement to deliver feedback at the most appropriate moment considering three things: the
task, the student, and the class. Feedback needs to be offered at the point where links to
improvements of the current task to more general principles (Hattie and Timperley, 2007) can be
given to students so that they have the chance to improve the task. As a senior leader our role is
not to predetermine the feedback frequency but to instead ensure that their professional
learning supports them in developing this skill. Teachers are then able to focus on moving
learning forward, targeting the specific learning gap identified, ensuring that a student improves.
In our pedagogical approach we have supported the idea of giving praise. But as per the
recommendation it should be followed by a statement making it clear what they have done well.
This will be specific to skills or knowledge within the subject area and in line with the mastery
learning objective and success criteria.
The final recommendation for my reflection is number 3 – plan for how pupils will receive and
use feedback. In the planning process it is important that time and opportunities are considered
for students to use the feedback given. Students are individuals, and a ​"one-size fits all"
approach does not consider the factors which may influence the way in which student's use
feedback. Teachers need to monitor that their feedback is being used so that learning moves
forwards. In our approach we are asking our teachers to make sure that students have a specific
target that states clearly what needs to be done to improve academic performance. The target
must be specific, reflect the mastery learning objective and contain the appropriate level of
challenge for the student. Students are expected to respond to their targets. This may be
achieved by students redoing part of their work or may be evidenced through subsequent
activities. The recommendation in addition suggests other effective post-feedback activities such
as detective activities, class discussion of feedback, three questions, and correcting errors and editing

work. In all these cases, this should be clearly signposted for the students. Students need to be
equipped and motivated to independently attempt the target, providing them with the
opportunity to act on the feedback.
Our teachers are asked to record their reflections on feedback to inform future teaching and
learning. With allocated weekly department time, curriculum teams focus on sharing and using
feedback, not only for their current classes but to also enable the team to adapt the exposition
of the topic and shape the curriculum for the next year.
The successful implementation of the feedback policy needs to be a carefully staged process,
and we will create the implementation plan carefully following the Putting Evidence to Work: A
School's Guide to Implementation. It is a new policy for everyone, and we will need to work
through it together to align our practice and even work through conflicts with some prior
crystalised habits (as mentioned in recommendation 6). The biggest challenge I see in the
implementation of this policy is to secure effective professional learning. This will be led in an
initial launch, steered by the feedback policy. Time given so that we can all grasp the feedback
principles underpinning our pedagogical approach. Teachers will have subsequent built-in
department and whole school time following this launch to apply resultant strategies in practice.
From this exemplification strategies will begin to emerge from curriculum areas to share. Further
opportunities to focus on this area for individuals to improve their own understanding and use
of effective feedback will emerge through their own reflective inquiry as part of their
professional learning communities and individual coaching.
Utilising this guidance report to direct my reflections has been extremely worthwhile, and I
would highly recommend for all senior leaders to do the same. It has provided me with the
clarity I was seeking, the explicitness I was after, and the starting point for implementation for a
purposeful and practical feedback policy.

Dann, R (2018), Developing Feedback for Pupil Learning, Teaching, Learning and Assessment in
Schools, Routledge. p.45
Hattie, J and Timperley, H, (2007), The Power of Feedback, Review of Educational Research, 77 (1),
81 – 112; Fletcher-Wood, H (2018), Responsive Teaching, Routledge, p.98 – 99
Lemov, Doug, (2015) Teach like a Champion 2.0 : 62 Techniques That Put Students on the Path to
College. San Francisco: Jossey-Bass.
Shute, V. (2007), Focus on Formative Feedback, Education Teaching Service, p.1. See also, Shute,
V (2008), Focus on Formative Feedback, Review of Educational Research 78(1), 153 – 189.